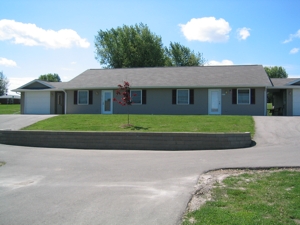 Apartments in Hazel Green, Wisconsin:
These newly constructed apartments have two bedrooms, one full bath, a laundry room ,
open-floor plan kitchen, living room and dining room and a garage with storage.
With easy access to the tri-state area these newly constructed apartments have all the amenities of a home without the maintenance. Each unit has a one-stall garage with storage space attached to the apartment. No more walking outside in the rain to your car!
Each unit is air-conditioned and features two bedrooms, a full spacious bathroom a laundry room with washer and dryer, refrigerator, stove, built-in microwave, garbage disposal and dishwasher. Rent is $625 per month with tenants responsible for utilities. Currently all four units are occupied. Contact us to be put on our waiting list!
Please e-mail or call us
for more information.
Thank-you!

Tim.Hirst@MurrayBay.com
Phone (815) 979-9829